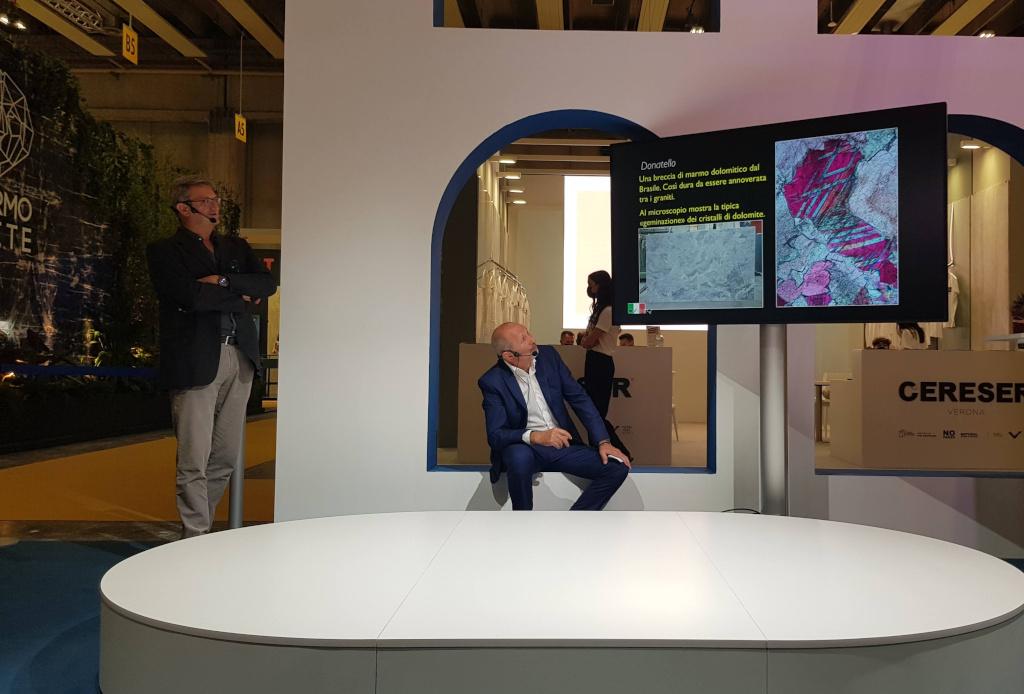 Back to Marmomac...
After having ethusiastically accepted the invitation from Verona Stone District, we went back to Marmomac as exhibitors after long years of absence. When we last exhibited, the fair was still called 'marble fair', where stonemasons from the Valpolicella Valley proudly represented themselves.
As then, we took part in the fair with great passion and set ourselves the goal of enhancing the stone world of our region, which is an international attraction of top peformance.
This event not only served to represent excellence, but was also a reunion between old and new companies as well as between old and new fans of the marble world.
Many materials in one location: marble, granite, cold stone, which are transformed, in our eyes, into miracles thanks to skilful expert hands (artworks, statues and creations of all kinds and colours).
Human ability and imagination power in modelling these materials never stop to amaze us.
The blocks in the block storage are shapeless, grey, neutral, immobile… they are just waiting to be worked on by experts, when experienced hands open, cut and shape the blocks to show the world their beauty, their colour splendour and internal structure, which are always the same and yet always different.
If you look at a slab made of any material, you'll be also able to read its story, which is part of the history of our planet.
Some materials look like sea bottoms, others like majestic river beds, still others are snow-white or pitch black showing explosions of shapes and colours on the inside.
Nature has always offered us wonderful things: as stonemasons we are looking for the magic inside stones, transform them and breathe new life into them, thanks to ancient wisdom and long professional experience, that have shaped our area not only for years but for thousands of years.
Our invitation to Prof. Bernardo Cesare to Verona Stone District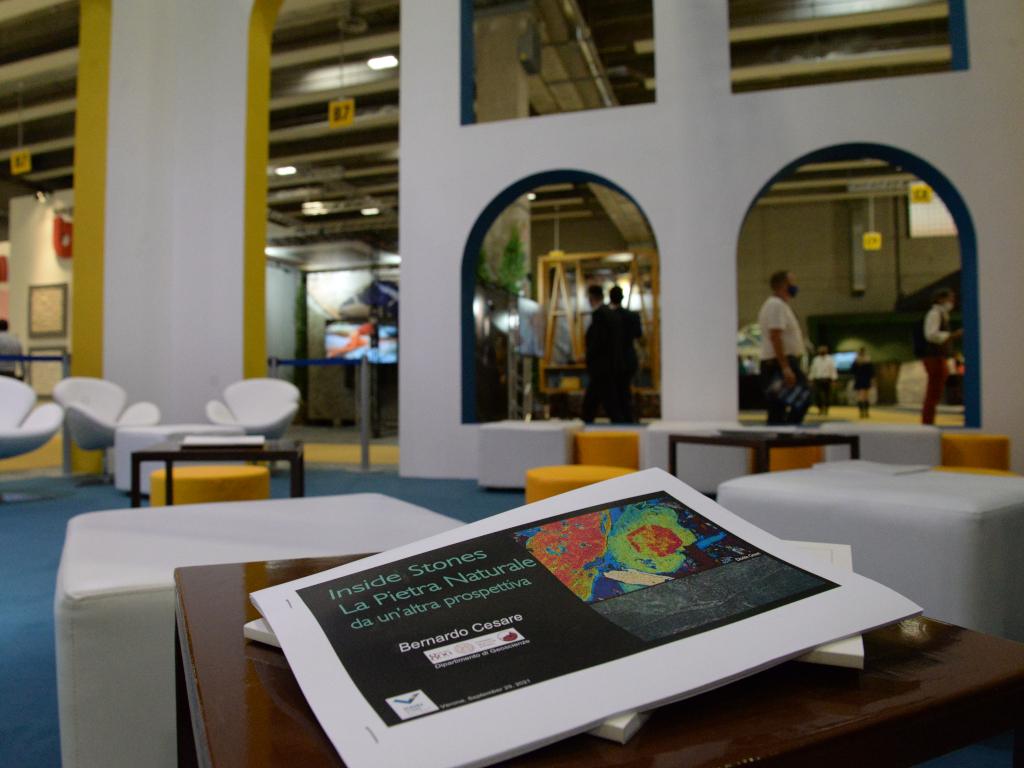 In this context, we organized our presentation to show the beauty and composition of the materials from our area.
As stonemasons we are pretty sure that there are no more secrets after a thousand years of stone working.
However, the presentation of Professor Bernardo Cesare from the Geoscientific Department of the University of Padua showed us how much more we have still to learn about marble and granite slabs.
The professor was indeed very pleased that he could surprise us with new facts about the interior of natural stones.
For this reason, we called the professor's presentation in the Verona Stone District "Inside stones, natural stones from another perspective", during which he showed a video of very thin sections of some of the natural stones from our catalogue.
One of his scientific activities is taking photos of rocks and by now, Professor Cesare has specialized in examining and photographing natural stones with a microscope under polarized light, which makes the colours inside the stone 'light up' when cut into thin sections of 3 microns (that is a third millimetre).
The effect is almost strange, but so breath-taking that the aesthetic aspect and the astonishment about the beauty often outweigh the scientific aspect.
After Mr. Claudio Rossi introduced Professor Cesare, a series of colourful pictures were shown, including Nero Zimbawe, Bianco Antico, Coffee Brown, Kashmire White, Labrador Blue Pearl, Pierre Bleu, Silver Wave, Titanium and many others.
The professor then focused on two impressive materials with specific composition from our warehouse: Vitoria Regia, a natural stone that was formed on the sea bottom of ancient seas by volcanic activity under water creating accumulations called "pillow lava" (lava bubbles that solidified in pillow form) and Matrix, a real natural 'laboratory' with large cordierite crystals.
The official presentation of Donatello and Diorite Green.
Last but not least, he concentrated on the two granites on stock in our warehouse that we exhibited at the stand during Marmomac 2021: Donatello and Diorite Green.
Donatello is a dolomite with a cloudy background in different shades of grey, from London smoke grey to pearl grey. Its bright pointillist texture is more noticeable where centimetre-sized quartz bulbs are situated.
Thus, the natural stone gets an extraordinary elegance.
A satin finished surface emphasizes the material's features, whereas a polished surface looks breath taking from an aesthetic point of view.
Please note that polished surfaces put Donatello on the same level as marble with little resistance to acids, which may spoil the shiny surface.
Diorite Green is a material from Iran in various shades of green. The garnets present in this natural stone create red and brown spots on the green background, that's why it is also called Green Pomegranate.
It is a hard material whose technical and aesthetic features ensure long-term resistance.
Most popular are satined and polished surfaces.
Donatello and Diorite Green are natural stones with a certain hardness, suitable for all applications with no limits to your imagination.
Conclusion: the importance of geologists and stonemasons…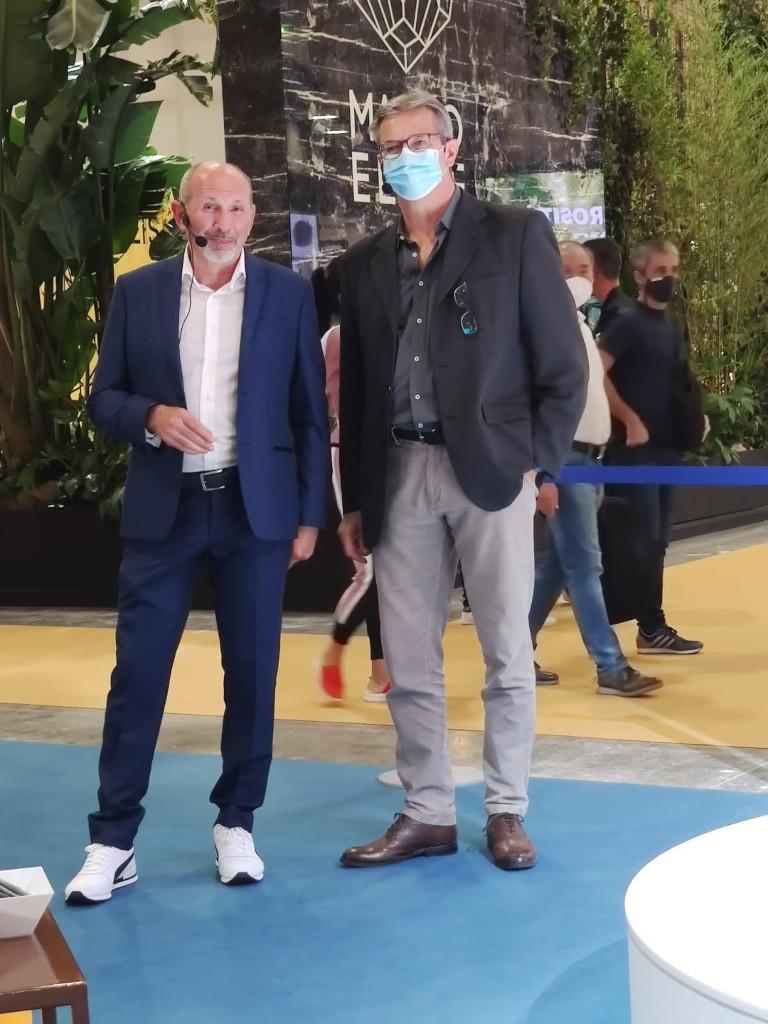 Ultimately, this interesting presentation showed us two aspects that we should consider in the future.
The first aspect in the focus of Professor Cesare implies the importance of the geologist. In a country like Italy with geological vulnerabilities, one should not underestimate the role of geologists.
As Mr. Claudio Rossi has already pointed out, the second aspect outlines how proud our stonemasons are of the stone working continuity in our area, starting with the ancient traditions of the builders of the Arena in Verona and of the majestic medieval cathedrals to the strong innovations of the latest machine generations.
A quote from "Good morning Babilonia" by the Taviani brothers:
"We are the children of the children of the children of Michelangelo and Leonardo…"