According to our recent tradition, by the end of our MeetUP 2017 we asked the manager of Marmi Rossi Spa, Mr. Giovanni Rossi, about his first impression "after the exhibition MARMO+MAC 2017"...
Two important events for Marmi Rossi...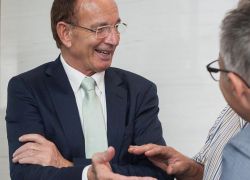 The last two years have been very special for our company: last year we celebrated the 50th anniversary of our company and at the same time, we were busy with the completion of our new office building, inaugurated on 23rd September (read the article, editor's note). Both events have been important for the company's development and we wanted to celebrate them adequately. Therefore, this MeetUP 2017 was influenced by the two occurrences.
First of all, the trend we've noticed during the last years and after the economic crisis steadied down: the time for large warehouses with "stockpile" is now over, today you only buy what you need. Despite this limitation, I'm really satisfied about the many 'yellow notes' fixed on the slabs in our showroom, because they are an unmistakable sign for material reservation! And given that the reservation of some material, as Zimbabwe and Impala, is not necessary thanks to the large quantity in our warehouse, well, then our satisfaction is even greater!
Our well-stocked and diversified warehouse has always been our strength. Furthermore, during the last years, more and more customers prefer to choose an entire block which has to be cut according to their requirements.
What about the market situation?
The German customers and especially our long term or (as we call them) "historic' customers have put their trust in us once again. For many years, they've been working with us and together we've made a lot of good and satisfying deals. Famously level-headed, they buy material on a large scale and thanks to Marmi Rossi's serious and reliable work, they are able to do it with serenity. Although we guarantee an accurate selection of material, we always focus on our customers.
Quite the contrary, the customers from other parts of Europe keep their purchases down to a minimum and this is what we interpret as a sort of indecisiveness due to the still precarious market situation, that is often subject to socio-political changes.
We've been very pleased about the large number of customers who came from non-EU countries or countries 'new for us': many purchasers arrived thanks to our online publishing. Especially charming and unexpected was the visit of new customers who came to know about us thanks to social networks (facebook and instagram). They wanted to visit our new office building (as they have been following the construction phases on the internet) and insisted on meeting the media manager to pay their compliments for the well-done job!
That was very satisfying, particularly for my daughter, who I have to praise for her engagement, because she was the first to believe in digital success. She is closely following the increasing presence of Marmi Rossi on the internet, doing it day by day and with great enthusiasm. Needless to say, that she is realizing very interesting results.
Click here to see the photos of the MeetUP 2017
Let's talk about the MeetUP 2017
Last year, we already noticed a new trend that has been confirmed this year: a rush of customers (and contacts) came visiting our company and most of them arrived before the beginning of our MeetUP (and before the start of the exhibition MARMO+MAC). The flow of people increased during the days of our MeetUP from Wednesday to Saturday.
We are aware that one of our strengths are a well-stocked warehouse with large quantities of blocks and slabs as well as the fast rotating storage. This 'plus' distinguishes us from a 'simple trading company' and makes us a major manufacturing company.
During the MeetUP, visitors could visit our open company, look at the large range of materials and know more about the processing. Our visitors were mostly interested in new materials and black granite. Some marble slabs, especially in light colours, received high attention too.
The new office building
The best point of interest during our MeetUP was of course, the new office building, which can be considered as a real "showroom" thanks to the variety of materials. Marble, granite and quartzite, which are usually exposed in our warehouse, have been floored in different finishing and in special designs. Many furnishing ideas emerge thanks to the combination of natural stone and glass. The compliments and questions we received, let us suppose that a lot of people really like our new offices.
Inside Stone
Another highlight of this year was our campaign Inside Stone, a spectacular photo exhibition of several materials from our warehouse. All the photos have been taken under the microscope with polarized light. Obviously, we didn't choose randomly the topic of the recent MeetUP 2017.
In conclusion, we are more than satisfied with the results of our event outside the exhibition Marmo+Mac 2017 and right now, we are looking forward to purchasing all the orders. Only after the completion, we may have a little time to pat ourselves on the back!
By the way, we'd like to remind you of the next MeetUP 2018!