Seventy years ago the organization UN was founded. It was in the year 1945, when the so called United Nations were founded in Geneva, in the neutral Switzerland, immediately after the Second World War and among great hopes and trust in the prospect of peace.
Several festivities took place in Geneva to celebrate this event appropriately. On that, Italy endowed an art work of Michelangelo Pistoletto, called "Rebirth 70", to express the wish for a renewal of the values from 1945 when the United Nations were founded. The UN prefer the expression of Renaissance instead of the original name given by the artist 'Third Paradise', with that name the artist wanted to recall the symbols embodied in his work.
The art work's basement is composed of stone blocks, which are made of 193 different materials, each material stands for a world nation bearing that nation's name. The stone blocks form three lined-up circles, nevertheless, the two exterior circles are smaller than the inner circle, because the artist wanted to show his long-time idea: the fusion of three paradises.
The first paradise is nature. The second is an artificial paradise created by human intelligence and adapted to artificial needs, full of artificial products and artificial enjoyments, which all lead to deterioration and environmental pollution. Everybody is full aware of this tragic collision between natural and artificial areas.
The third paradise aims to guide science, technology and art towards a certain direction in order to revive the Earth. The third paradise implies reaching a new level of civilization on our Planet, a start-up of common ethic values to guarantee the survival of humanity.
The third paradise is like a new myth that will convince people to assume self-responsibility in our fragile era.
Therefore the third paradise is a symbol for the rearrangement of the mathematical infinity character and replaces it with a twice cut line, which represents three lined-up circles. The two opposite circles stand for nature and fiction, for you and me, while the inner circle shows the union of these two counterparts, that is to say us - in a manner of speaking it's the bosom, which shall give birth to a new humanity.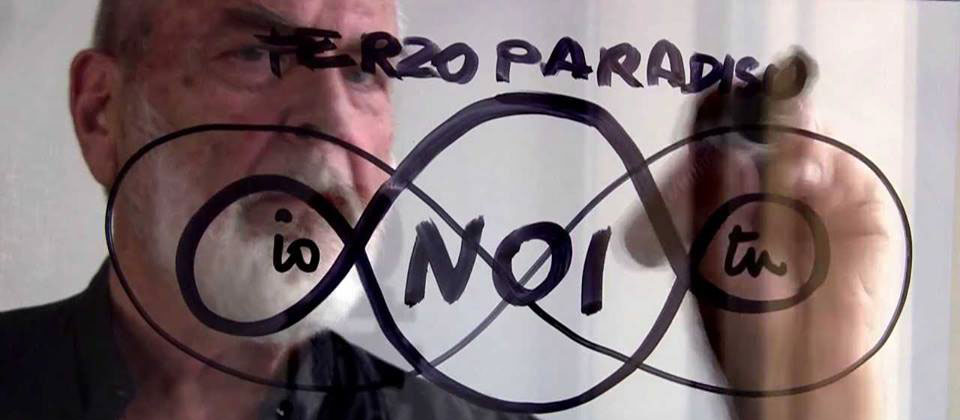 Pistoletto has applied this symbol very often in his art work, which is realized with different materials and in different dimensions. This time, he used natural stones to realize his art work for the UN and that really pleases us!