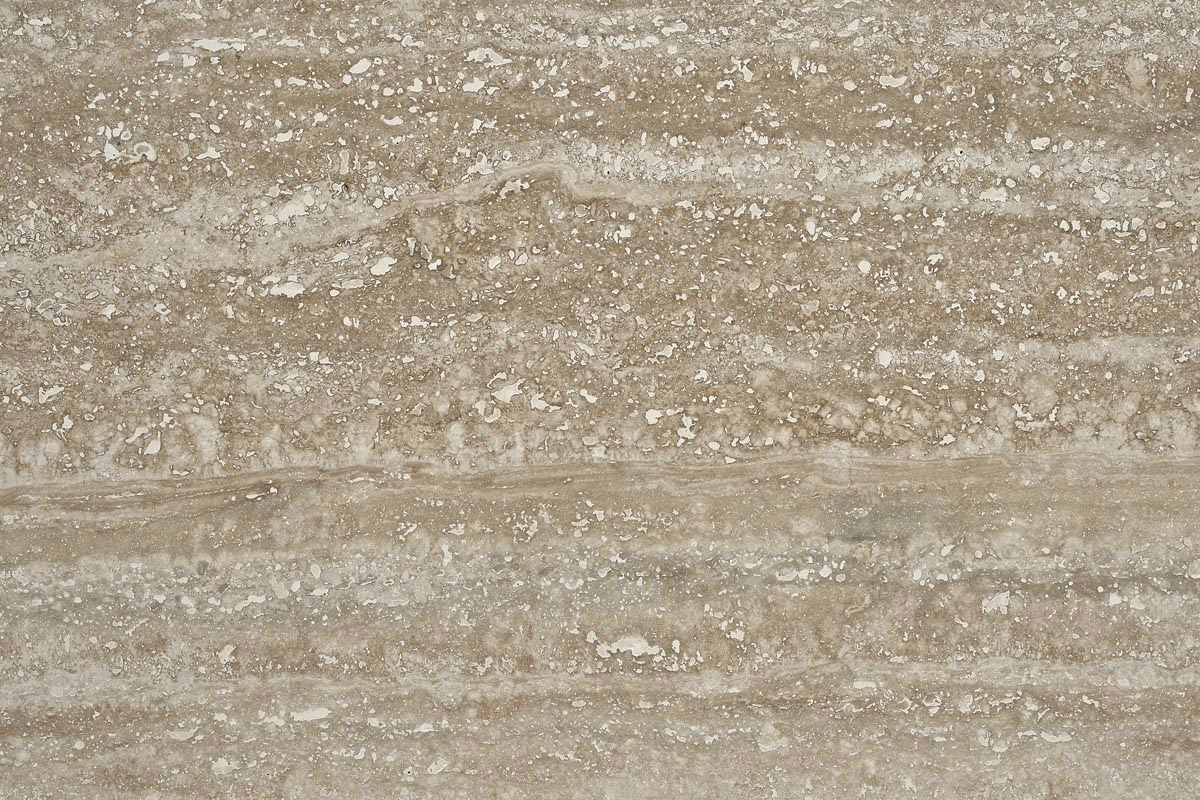 An example of Travertino Classico Romano
As mentioned, a few months ago, Marmi Rossi decided to re-integrate marble in the production line and that includes travertine, a material from ancient times, which looks like marble but that's not how it is. Travertine is a sedimentary rock with special features which differentiate this stone from classical marble.
Today we talk about travertine, because over the last few days, an advertising of the famous fashion label Fendi was pictured on the newspaper "Il Sole 24 Ore". A handbag, yes, you rightly understood, a handbag can be seen in a chiaroscuro perspective with travertine: Are Fendi and Bernini equal?
Gian Lorenzo Bernini was an architect and sculptor, who probably could best emphasize travertine with his spectacular art works. Among his masterpieces we may quote the fountain "fontana dei Quattro fiumi" in Piazza Navona and the colonnades in Piazza San Pietro. But what makes travertine special?
Travertine is an ancient stone, already used for buildings in ancient times. The quarries of travertine are located in Italy, particularly in the surroundings of Tivoli. This kind of stone has got a variety of colour shades: from grey and beige to red and brown shades, but you'll find yellow and orange colours, too. It depends on the quality and the water quantity, if the structure of the stone is linear or beautifully undulated.
The most characteristic feature of the stone is the alveolar structure with small holes of different sizes and forms. Travertine is originated by sedimentary deposition and multi-stratification of calcium carbonate in shallow fresh water that stows for a long time in plain areas. The stone has got its porosity from blowholes, which rise from the earth's crust to the surface or from decomposition of animals, plants or mussels, which are embedded in the deposited carbonate and often form fossils.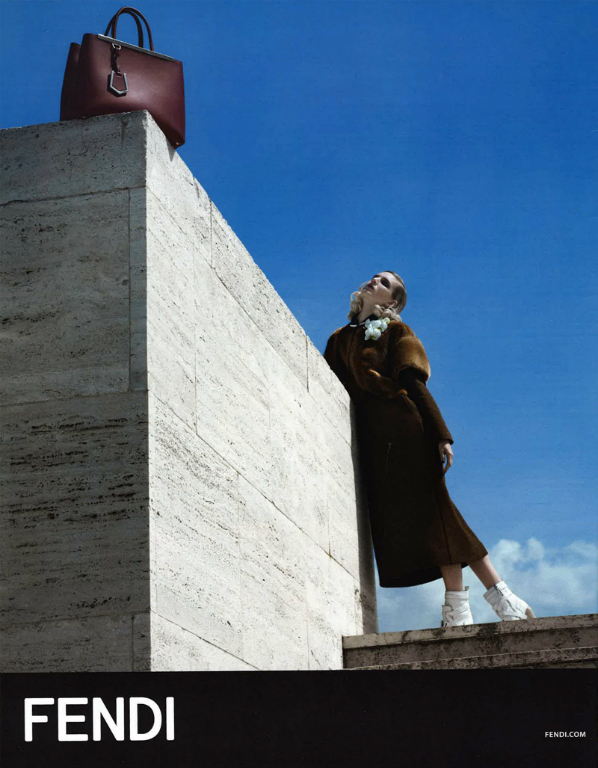 Travertine in the new Fendi adv
Another particularity of travertine is the long-term hardening after exploitation and, despite of its porosity, the stone has got a relatively good frost-resistance and tensile strength.
This stone (marble) has been worked in every period of history thanks to all these characteristics. For centuries the Etruscan and Roman construction engineers have often used travertine for buildings: during the Roman Republic bridges, aqueducts and city gates were built with this stone, during the Roman Imperial Era the artistic and formal aspects have been emphasized, travertine was used for some of the most important buildings, as the Colosseum, Palazzo Palatini and Villa Adriana. Since Renaissance travertine has been used to build churches and art works, so Rome has turned into the "city of travertine". It's impossible to list all churches and palaces made of travertine, we'd like to draw your attention to the colonnades and the church on Piazza S. Pietro, to the fountain on Piazza Navona and the Trevi-fountain, as well as to Palazzo Montecitorio and the obelisk on the eponymous square.
The use of coloured resin has changed the look of travertine, it seems a little "pepped up". Referring to interior design travertine is entirely fashionable now...
Discover the Travertino Classico Romano
Discover the Travertino Noce Romano
Discover the Travertino Alabastrino