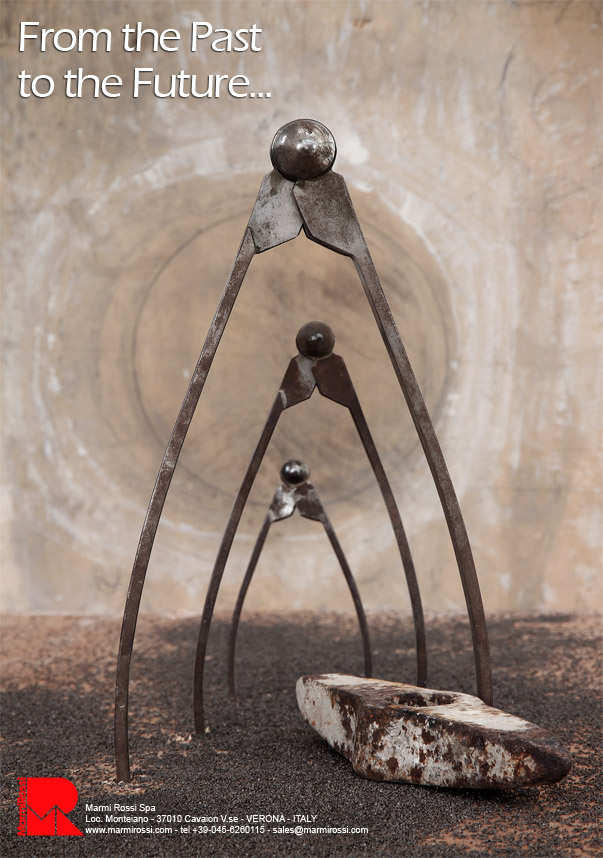 Naturstein
June 2011
Communication Granit
Marmi Rossi: From the past to the Future
Builds on our past is our future without strong roots, such as large trees, there is projected upwards and you do not grow.

from the Past to the Future...
The photo shoot
Even the wonderful photo shoot was carried out by Adelino Rossi in the month of April 2011. Adelino, stonemason by descent and an artist by vocation, was charged with finding a shot that could well represent the idea of ​​the passage from past to future, raising the status of art. It 'surprising result: tools of the past, but still used by those who carves marble, photographed to suggest a future event, capable of evoking emotion in the marble it has always worked, lived and it promotes the enormous technological development industry and can not forget the fatigue and the difficulty inherent in this type of activity.
The object of the photo
The photo shows compasses of various measures used to run existing models and sculptures in different scales, a rusty old tow, which we have never decided to throw away and, as a base, a few granules of iron that is used as abrasive sawn granite slabs.

The 'cause of this choice...
With the publicity of Natural Stone in March 2011 we stated our intention to have the past as a dominant theme for our 2011 notice: the past was the theme brings the experience of March, and now the past as a basis on which to build the future.
For this second release we looked back to see what has come from the past, to understand and make people understand that the past directs us toward the future, and it is ideal to build a bridge that connects them: without strong roots, such as large trees, there is projected upwards and you do not grow.
And so 'the shot takes objects from the past and puts them in a "futuristic", a path towards ordered that black hole...
Marrying in the middle of the choice of communication has already been declared in March, also in this case we did not want an ordinary advertising an end in itself: the image and 'born from an intuition, a creative twist, its composition has required work, number of intermediate shots, discussions, adjustments and choices.
We hope that this shot has produced in you the same emotions that we did try...
From past to future
Now, as forty years ago, we go all over the world at our usual suppliers of granite blocks to personally select the granite quarry that we provide to our customers.
Blocks that later become granite slabs along a well-established cycle of processing of granite, with advanced machinery and a team of reliable and selected.
Our customer knows that the agreed prices and times will be respected to the best of our ability.

Our supply of granite will be in keeping with a trend that points to the future from the past.