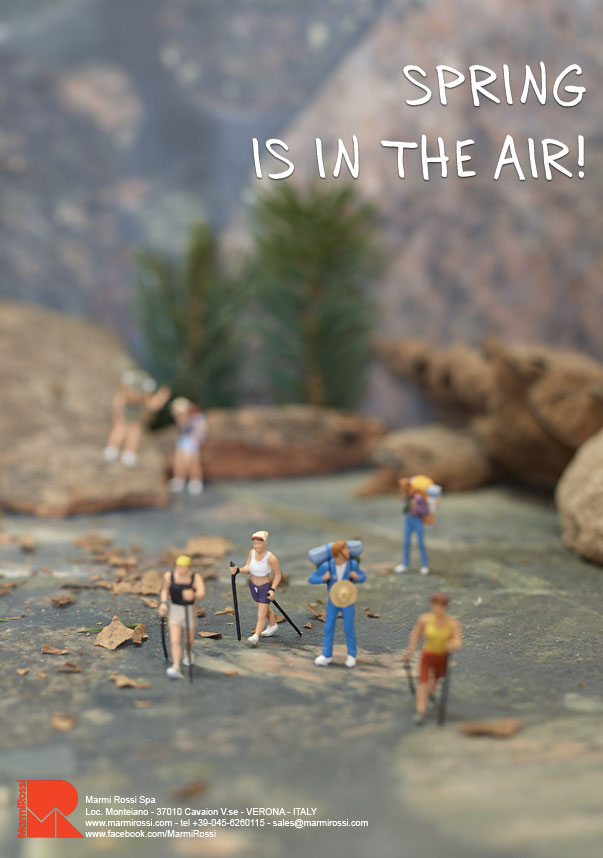 Naturstein
March 2013
Communication campaign Naturstein March 2013
SPRING IS IN THE AIR
Longing for fresh air and movement, craving for green meadows and mountains.
The first publication on the magazine Naturstein shows the mini figures of "Marmi Rossi Another World" during a mountain hike. The natural setting of " Spring is in the air" continues with a wink the previous campaign "Marmi Rossi Nature" and follows the thread of important values, such as environment protection and natural purity of stone. The discovery subject reflects the urge to research and to develop new ideas, which have always characterized the Rossi family and their employees.

At Marmi Rossi's we are breathing spring in a granite: the green meadows and the mountains in the background are actually MARINACE VERDE.

Marinace Verde is a real hard granite. This material comes from Brazil and is very particular: a large area of white and red violet with slight shades of light green in the background similar to pebbles. Marmi Rossi considers a Marinace flooring as a pebbly shore in a river.

Marinace Verde is suitable for interior and exterior areas, but especially for: paving and cladding, ventilated cladding, swimming-pool borders, stairs, table tops, kitchen tops and sinks. This material can be polished, honed, brushed, flamed, satined , sanded etc.