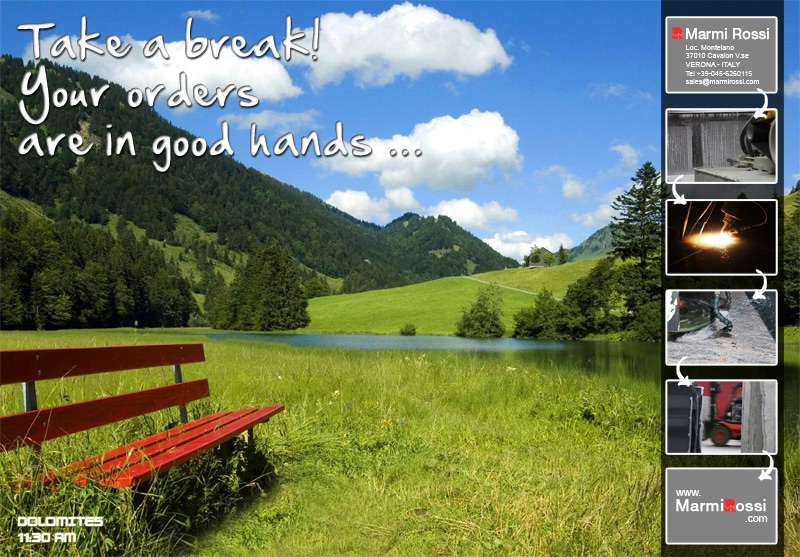 Naturstein
July 2010
Comunication Campaign Granite
In July 2010 the magazine Naturstein is publishing our message, which is against tendency, as we are living in times at full speed with lots of worries and too often the quality level of many suppliers staggers dangerously. Our message is clear because we are conscious of our abilities and of what we are doing for our customers day by day.
Take a break,
your orders
are in good hands!
The location
For July we have chosen a wonderful mountain view: the Dolomites. The photo inspires tranquillity and relaxation, it makes you want to escape from daily stress and tension.
But why such a strong message?
This agitated and frantic period speeds up the market and that negative movement makes often go down the quality standard in order to "fix the price" or to let customers believe in a "prompt delivery". But then the customer discovers that delivery time is the same as usually and that the goods' quality is getting worse.
We want our customers to entrust their orders to Marmi Rossi, as they can be sure and serene that our firm's organisation is able to offer the best services for delivery and quality.
We've really known our block suppliers for a long time, we visit personally the quarries, which provide us with granite and we trust in our working power and means for granite finishing. Our customers know that they can entrust us their orders and then make a pause, as we respect as much as possible delivery time, costs and delivery terms.
Our services
As for efficiency we decided to indicate visually some of our services. The miniatures are respectively standing for:
The cut of granite blocks and granite slabs
The flaming of granite
The polishing of granite
The warehouse
The website marmirossi.com includes, among other things, the warehouse granite slabs up – to - date in real time!
Briefly, if the customer orders granite at Marmi Rossi's, he'll be allowed to….make a pause!