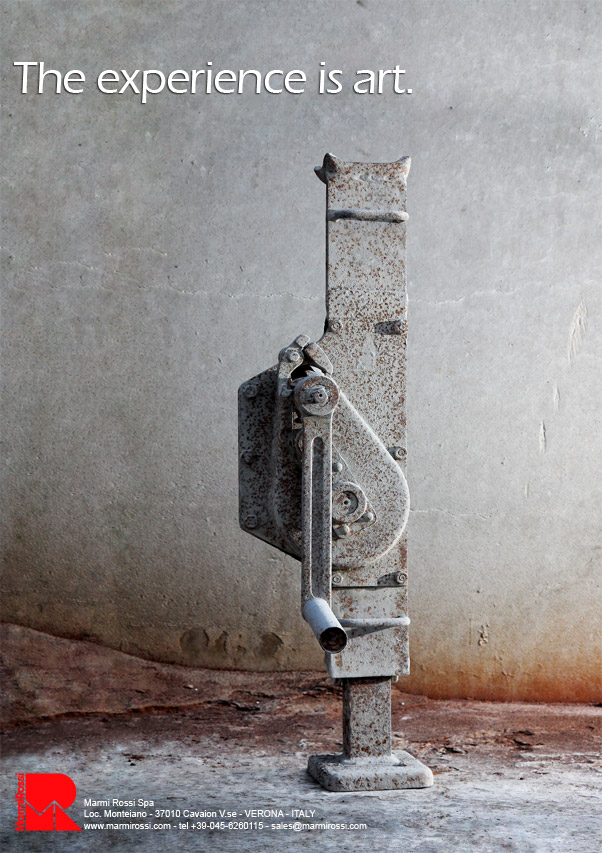 Naturstein
March 2011
Communication Campaign Granite
Marmi Rossi: The Experience is art
New Year, new campaign!
After several weeks of reflection, we've finally found the fitting subject for the new communication campaign 2011. Our problem hasn't been the lack of ideas, but, on the contrary, the large selection of interesting proposals.
Finally, the subject has been chosen: the PAST.
The past as a source of knowledge, the past as a call to our roots, the past as manual ability and as a pursuit of perfection, the past when human beings had priority over tools. The past is the source of knowledge's property and of experiences, only who is able to put the past on interest, will reach quality, perfection, art…

The Experience is art.
The photo
This wonderful picture has been taken in February 2011 by Adelino Rossi. Adelino descends from a marble-cutter family, but he's following his particular vocation for art, too. Therefore he sat to take a picture which would perfectly fit his idea of "past as art". The result is amazing: a tool from the past in its natural context has become immortal and recalls the emotions of those, who have been working with marble from time out of mind.
The photo's subject
The picture shows a lifter, also called "jack". This tool has been used until the late sixties to move manually big marble blocks.

Why this choice...
Why did we choose a tool used over 50 years ago for the Marmi Rossi's advertising for Naturstein? Looking at the result, the answer seems evident to us! We needed to stop for a moment, to look back and see what lasted from the past. This tool was formerly used by our fathers and shows us thoroughly how far we went, which developments have been made and how we should improve.
We like to look at the past because it reveals relaxation, reflections, art…
The past brings along knowledge and experience…
We know our block suppliers very well, since many years we've been working together, we also visit the quarries personally, from which we order our material. Besides, we're confident in our working power and means to processing granite. Our customer knows that he can entrust us his orders and then relax, as we do our very best to respect delivery time, cost and formalities.

To choose Marmi Rossi as your granite supplier means to work with professional suppliers, who not only respect the past, but also consider it an art. Collaborate with us, as many others are already doing: our customers appreciate our capacity and they really do know, how hard we are working every day. Just try our services… we won't disappoint you!

If a customer orders granite at Marmi Rossi's, he'll know for certain that he'd get only the best results from our firm, as we consider our work being real art!