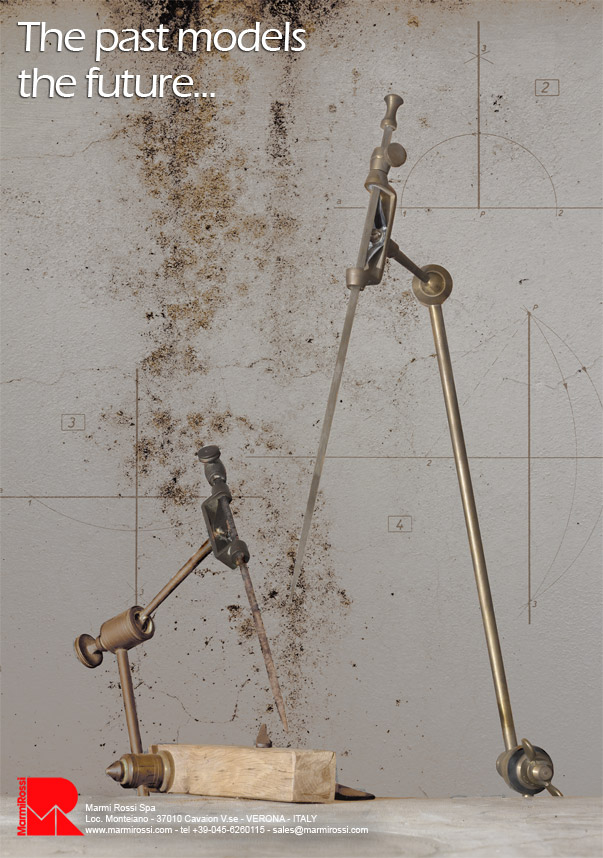 Naturstein
September 2011
Communication Granit
Marmi Rossi The past models the future
How can we think that our future will be shaped by itself? It's generated by errors, discoveries, traditions, experiences made in the past...

The past models the future…
The photo shoot
This picture of the third publication has also been taken by Adelino Rossi in June 2011. It shows ordinary tools from the past, which stonecutters are still using nowadays to carve marble, and moreover the photo suggests how the past shapes the future.
The object of the photo
The photo shows shapers, tools used by stonecutters to transfer the real dimensions to patterns before creating real sculptures.

The 'cause of this choice...
The third publication strengthens the communication choice made for Naturstein in 2011: we want to point out that our past is the source that inspires us how to generate our future. In the third edition we wondered how we got into our daily circumstances and to whom we owe the innovations in the near future. We are convinced that the past shapes everything.
Therefore the photo shows tools from the past (still used today), they represent the modelling transition from what has been to what will be…
We hope that you feel the same emotions as we did, when you contemplate the photo…
From past to future.

Today, like forty years ago, we visit our long-time granite suppliers all over the world to choose personally the granite blocks in the quarries for our customers.

These blocks pass through an efficient processing in ultra-modern machines under the supervision of our trusted and skilled staff and are then worked into granite slabs.
Our customer knows for sure that we do our best to observe the agreed prices and delivery time.

We supply our granite with experience, which has been increased in the past, at the same time we offer the best quality on market.