As a future-oriented company, Marmi Rossi is joining the current trend of industry 4.0, meant to improve the business value through automation and data exchange in manufacturing technologies. These three modern machines will extend and renew our production facilities, in order to interconnect the various production phases.
The following machines have been installed: Multiwire Jupiter GS220 a 80, a multiwire machine from Pedrini with diamond wires of 5,3 mm diameter, an open frame machine that stands for flexibility and innovation.
The modern multiwire machine will complement the old one, we've already purchased in 2011 from the same manufacturer. To our customers' benefit, we'll be able to cut our blocks from all over the world twice as fast as before (see installation of the first multiwire Pedrini).
For many years, the company Pedrini has been market-leading in manufacturing marble machines, that is why we've been working together for a very long time. Pedrini's automatic polishing machine for granite slabs, the Galaxy B220GB with 22 heads, is going to replace the old machine we'd bought from Barsanti, now we can optimise the surface polishing and better meet our customers' needs.
We've even purchased the new resining machine Prometec, that was especially customized for our company's space, for a precise resin treatment.
Pedrini Multiwire Jupiter GS220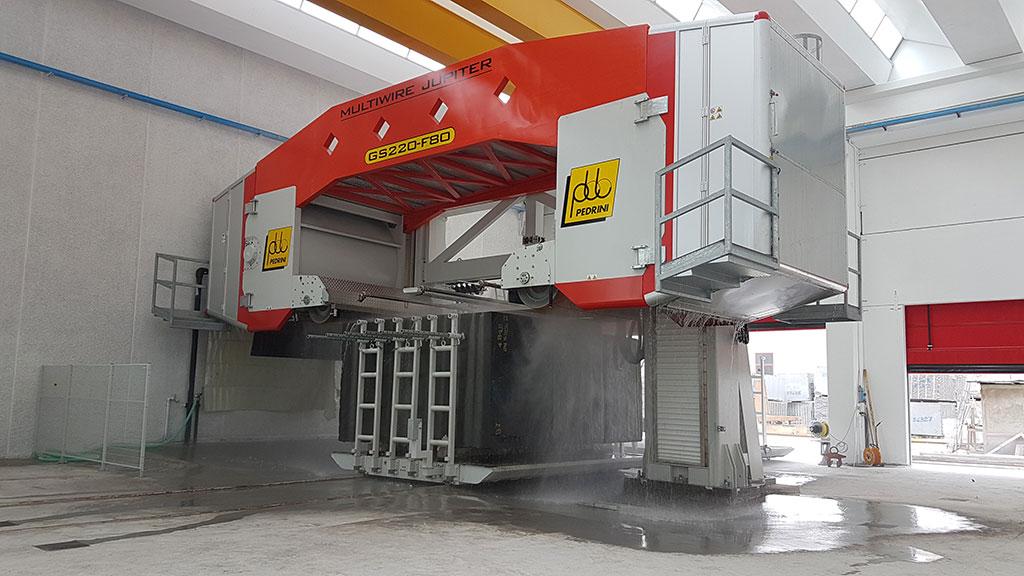 Pedrini Galaxy B220GB with 22 heads
Resining machine Prometec