In a previous article we wrote: "Back then, he dreamt of a better and prosperous future for his sons as independent workers in solid working conditions. Indeed he was a visionary but one with courage and a strong will, who was fortunate to witness how his dream has turned into reality … but that's a completely different story!"… now, the time has come to tell this story.
Marmi Rossi was founded in 1966 by our father Maurizio out of an inspiration. Unfortunately, he didn't have the privilege to complete a higher-level schooling because he had to quit school after the 5th grade of primary school. Even if he was a social and quick-witted person, he would keep his private life closely guarded. While working very hard, he had great ideas and stunning intuitions, in short, he was extremely strong-willed.
You have to imagine our father Maurizio as a person with amazing visions of the future, who promptly replied to any ironic comment about his many children to feed: "When my children are grown-up, I'll be a millionaire!"
Look at the photo above, who still remembers it?
That's right, we are talking about the two coloured pencil which was designed in 1955 and used by thorough accountants until a few years ago to colour the different budget items of the balance sheet: debits and credits, liabilities and outstanding amounts. It was also used at school to point out small and big mistakes in class works and exams. Our two coloured pencil is immortalized on that photo, it is lying on an antique book, a dictionary of synonyms from the nineteenth century written by Nicolò Tommaseo. Our father Maurizio bought it from a street trader and signed it.
You can recognise the brilliant and practical disposition of father Maurizio in this coloured pencil: a two coloured pencil in his hand with only a few markings, he was able to read an entire balance sheet without any higher-level school education! The one on the photo was really "his" coloured pencil! Try to imagine for a moment how he would stroll witty and ironically through the offices and warehouses of Marmi Rossi Spa. He surely would be impressed by the innovations made in his company during the last twenty years and he would comment on them ironically …
Then he would ask questions about the orders which our customers place directly on our website marmirossi.com: "What, the customers don't come personally to our company and don't even have to call for their orders? They can do everything by internet?"
Yes, of course, dear Maurizio, our customers can get to know us and contact us through our website, they can also look at our rich material catalogue and check immediately the stock availability! In addition, they have the possibility to send us straight away their price requests. Isn't this quite comfortable for our customers?
What would Maurizio say about the numerous square metres of photovoltaic panels that are installed on the roof of our warehouses? Obviously, we would explain to him that the current for his machinery comes from … the sun! We can imagine very well how his face would look like!
How could we possibly explain to him the speed and technology of the new multi wire machines? With eyes wide open he would learn that the production data are directly transferred to the computer and that he would be able to control anytime the entire company by using the monitor: we surely would laugh at his puzzled expression, after all, he started with a small stone saw that was continually filled with shovels of sand, the best abrasive ever!
We are certain that Maurizio would be proud of the latest developments of his company Marmi Rossi. He would probably go through the warehouses full of pride, then sit down behind his desk and despite the modern technology, he would take the red and blue pencil in his hand!
Today, his desk would be situated in one of the rooms inside the new office building: finally he could enjoy the privilege of air condition, as he preferred to work in the only unventilated room, because his employees ("my girls" as he called them) should be as much comfortable as possible.
Even if we are able to control our company with a mobile phone software, even if the production steps are organised and programmed based on instructions and commands that are directly sent to the different machines and even if the old machines have to be innovated, thus involving the entire production staff, we surely know that our father would be proud of this evolution. Nevertheless, he would still use his two coloured pencil!
Two different worlds meet here, the old and the new one. Nevertheless, they co-exist harmoniously, a happy synthesis between the roots that are firmly grounded in the past and the new, future-oriented ideas: Serafino Rudari has reflected this encounter very nicely in his art work. The square-shaped prospect of the new office building shows the reality, whereas its vivid and gaudy colours reflect dream visions. In the different colours of the building we also notice the colours red and blue as reminders of Maurizio's famous coloured pencil.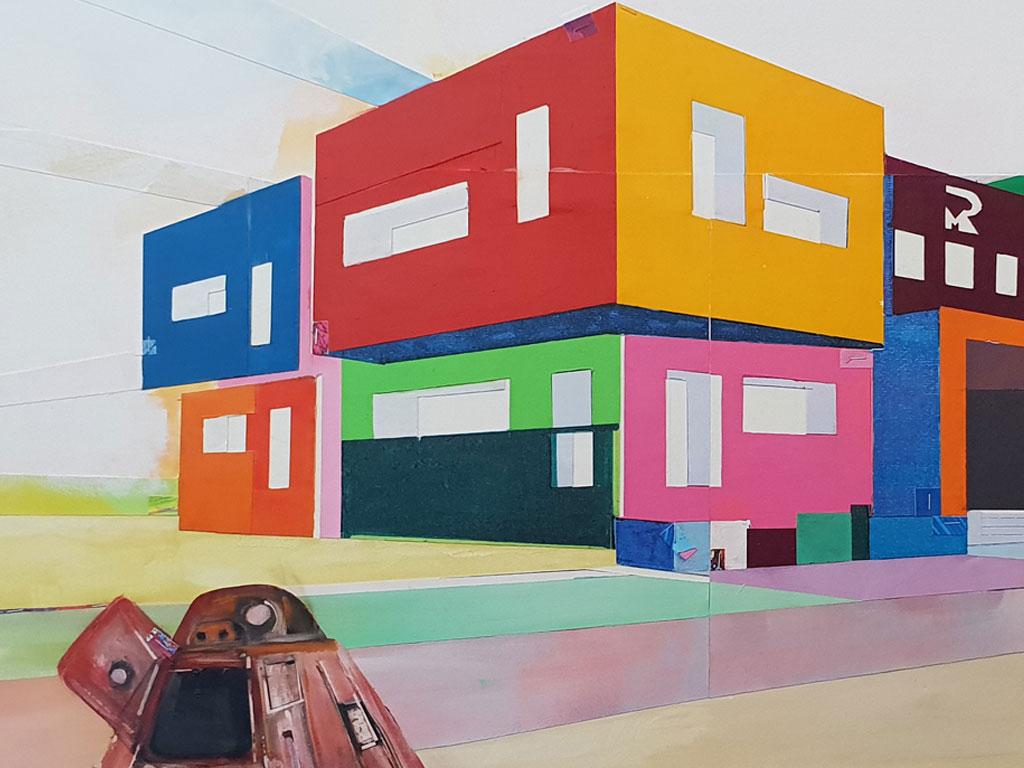 "When telling the story of a company, you often have to speak about the family history, too. " – says Rudari – "That means one must sense part of the growth, dreams and ambitions of a family, as some things are invisible to the naked eye. Every enterprise usually begins with hard work, sacrifices and capital investment to follow and realise a dream. It's always about people who perpetrate new paths like courageous pioneers with the dream vision of a researcher. The astronaut must be viewed as a "symbol" for all those people, who shoulder the adventure of such a voyage and who head out every day with dedication and devotion."
Let's never forget the red and blue pencil nor the man that held it in his hand…