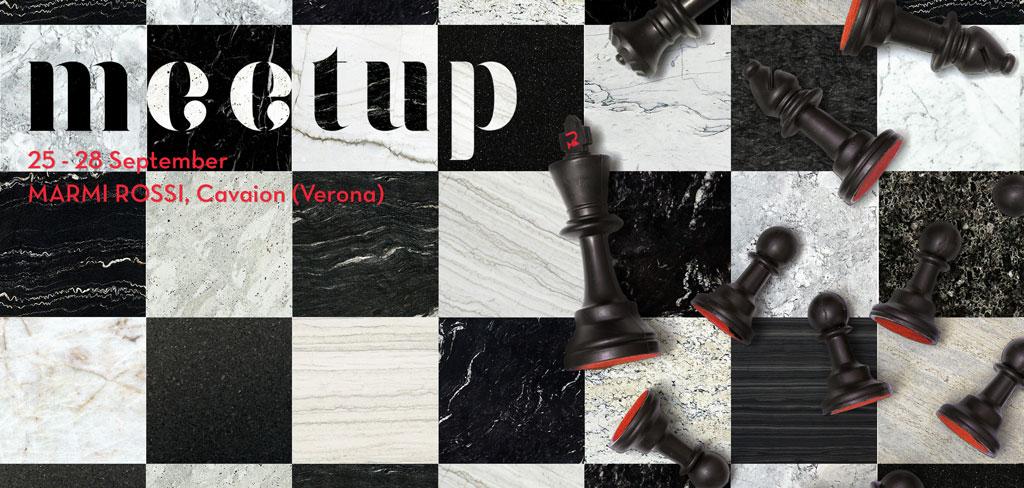 MeetUp 2019 takes place in our company Marmi Rossi during the exhibition days of Marmo+mac 2019. As a professional from the stone industry, you are welcome to visit our company, watch the various steps of slab finishing and take a look at the wide range of marble and granite in our warehouse.

Be prepared for a very black and white event! If you want to find out more details, visit our showroom in Cavaion Veronese (Verona) from 25th to 28th September, non-stop from 9.00 am to 6.00 pm.
During the MeetUp 2019...
Benefit from our TRADE FAIR OFFERS.
Choose and pre-order marble and granite, benefitting from our special TRADE FAIR OFFERS.
Visit our company and the machines.
Take a look at the various blocks and slabs in our warehouse and watch how the slabs are finished.
Meet the Marmi Rossi staff
Visit our company in Cavaion Veronese and meet the Marmi Rossi staff, while delicious local dishes will refresh your spirits.
* The participation in the MeetUp 2019 is completely free!
* No reservation needed: come and enjoy!

(the event is reserved for stone operator only)

If you prefer, inform us about your visit: our sales staff will be pleased to take care of your questions and needs.
---
WHERE AND WHEN:
From 25th to 28th September 2018 in the company Marmi Rossi Spa, Località Montean, 37010 Cavaion Veronese (VR).
How to reach us.

OPENING TIME:
From 9.00 am to 6.00 pm non-stop.

HOW TO CONTACT US?
Call us +39 0456260115 or send an e-mail to sales@marmirossi.com.
---
We are looking forward to meeting you in our company in Cavaion Veronese during the exhibition days.