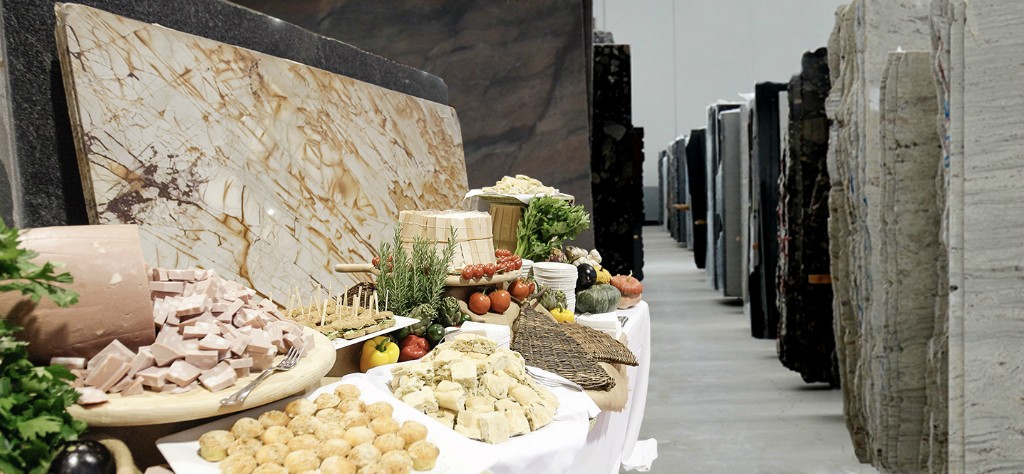 During the exhibition Marmomacc 2015 the yearly "MeetUP" take place again in our company. Don't miss the opportunity to get to know our company in Cavaion Veronese and to watch closely our beautiful and precious granite from very close. This initiative is addressed to all professionals of the stone sector who want to examine our best production's material.
Marmi Rossi is always on the move trying to find out new material and new solutions. MeetUP 2015 will offer you the chance to view on-site the most beautiful granite we've selected especially for you. Preview the new material that we have in mind for you for the coming year.
During the exhibition you have the possibility to discover and visit our company: i.e. our block store and warehouse, where you can look at our slabs and many products. Choose the best material and order it with the advantage of very special discounts!
*UPDATE FROM 23th SEPTEMBER 2015*
FINALLY WE CAN REVEAL OUR LITTLE SURPRISE TO YOU:
WE'VE BROUGHT THE EXPO 2015 TO MARMI ROSSI!

The beauty of natural stone and the skills of professional processing are the expression and strength of our region. Good food and the passion of enjoying dinner in good company are local properties, too. Therefore we decided this year to bring the EXPO 2015 to our company Marmi Rossi! The international exhibition about nutrition will accompany our MeetUP where you may taste many gastronomic specialities of different Italian regions.
What may you taste at the MeetUP?
Obviously, it's not possible to serve all recipes from every region and angle of Italy, but we've managed to assort many different dishes. During our MeetUP you can taste the famous Fogassa from Cavaion and the Tortellini from Valeggio (discover Valeggio), both are local products which have been presented at EXPO 2015.
From Wednesday to Saturday many specialities from all over Italy will be prepared according to each region and the following dishes can be tasted – without mentioning all of them:
On Wednesday it is North Italy's turn with polenta and mushrooms, cheese and sausage.
On Thursday we'll serve Piadine and Tigelle from Central Italy.
On Friday you can taste some delicious products from South Italy, of course you should not miss the famous Pizza Napoli or the Buffalo Mozzarella.
On Saturday you'll have the possibility to taste vegetables, meat and fish from the bigger Islands.
What else should we say……. The surprises ARE NOT FINISHED YET! ;)
The participation in MeetUP is free! Join us in our company in Cavaion Veronese: we are looking forward to your visit during the exhibition period from 9.00 am to 6.00 pm.
If you prefer, you can inform us about your visit: our colleagues will take their time to meet your requests.
MeetUP: WHERE AND WHEN
From 30th September to 3rd October 2015 in the company Marmi Rossi S.p.a, località Monteiano, 37010 Cavaion Veronese (VR). Look here how to reach us

TIME
Opened non-stop from 9.00 am to 6.00 pm.

HOW TO CONTACT US?
Call us +39. 045.6260115 or send an email to: sales@marmirossi.com