The surprising quartzite

This time we're talking about a beautiful and spectacular material.
Azul Imperial is the commercial term for a wonderful and sensational quartzite from Brazile. The name derives from its blue ground colour. A pastel coloured, mottled and transparent blue predominates the stone and confers it an irresistible fascination.
Quartzite is a metamorphic rock, that means a rock was converted during the geological era into quartzite through heating and high pressure, changing completely its chemical and physical properties. In this case in a large and extensive basin in the federal state Bahia in Brazile, near the locality Macaubàs – where another beautiful Azul, as you can see on some of our photos, comes from and is named after – a huge deposit of sand turned into very hard quartzite in the course of nearly one billion years.
Azul Imperial quartzite has got a greenish blue crinkled structure. This stone contains 5 - 8% of kyanite, an aluminium silicate, which causes the sky-blue colour. Because of other minerals the venations of Azul can be very different one from another, varying from beige to gold, from brown to violet, therefore it's difficult to describe its patterns and colours. The aesthetic of the stone Azul, indeed, is unique. The problem of colour changing that we sometimes note in other blue coloured stones doesn't affect Azul, because this quartzite doesn't contain any sodalite.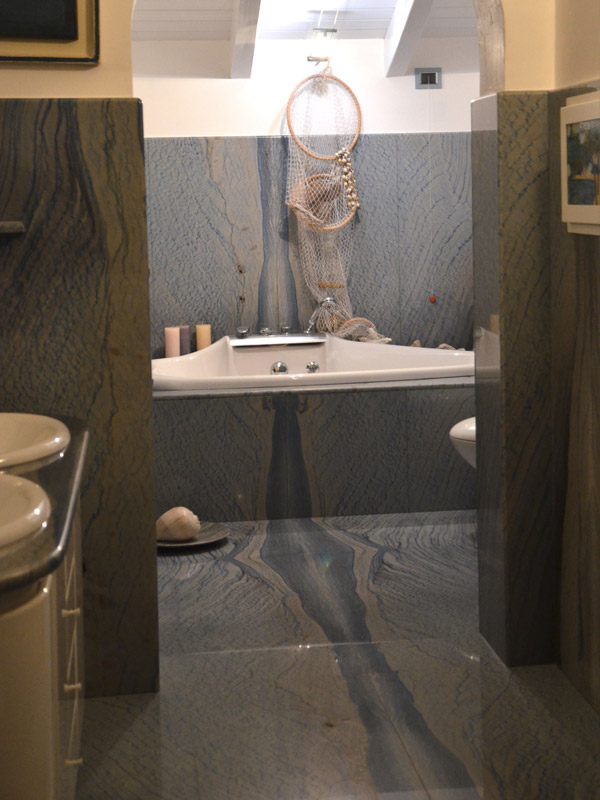 Azul can also be applied externally for floors or for covering because of its high resistance.
As for its unique beauty, high quality and value Azul is highly requested for interior equipment.
The crinkled structure and the mesmerising effect of Azul are especially emphasized if laid as 'mirror image', this setting creates an evocative picture and highlights the stone's grain and its aesthetical value.
>> Discover the Azul Imperial
>> Discover the Azul Macaubas