Natural stone has been used in many ways over thousands of years, for building constructions as well as for artworks.
The word stone derives from the Latin "petra", which means "piece of stone" or "precious gemstone", and it can be described as a rock fragment characterized by hardness, compactness, and absence of metal elements.
The stone, which is available in nature and extracted in quarries, can be used without changing its original physical-chemical structure.
Due to its use in construction of historic buildings and in design of sculptures and other types of artworks, natural stone is considered a precious element.
Natural stone in harmony with history
The history of natural stone began about 3,800 million years ago, when the igneous, sedimentary, and metamorphic rocks have been formed.
Natural stone was used back in the Palaeolithic, when men began to make different tools, objects, and statues from stone, but over time, it has almost completely replaced wood.
Over the years, its use has become more and more important as the basic element to build structures such as dolmens or protective structures.
Natural stone was generally used to build house structures, while the rest of the buildings were mostly made of wood and earth.
Over the centuries, men began to build entire houses and buildings for urban life with natural stone.
While natural stone was the favourite material for such structures, marble was mainly used for monumental buildings.
The peoples who made the most use of it were Greeks and Romans.
Since the Renaissance, natural stone has been used less frequently as a building material, but played an important decorative role in the cladding of high-quality architectural buildings, as well as in the production of sculptures.
An example for the use of natural stone is the Temple of Valadier, built between the Natural Park Gola della Rossa and the Frassassi Grotto in the Marche region.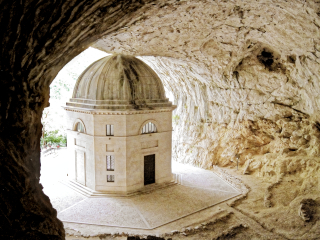 This pilgrim church was built by Pope Leo XII around 1830 in neoclassical style based on the plans of the famous architect Giuseppe Valadier.
The church has an octagonal shape, is made of white travertine, was built into the rock and its lead dome touches almost the rock ceiling.
The interior of the church is very simple.
On the altar is situated the statue of the Virgin Mary with Child, made of white Carrara marble by the sculptor Antonio Canova and his school.
Over the years, important sculptors also used natural stone for the creation of tombstones and funerary monuments of famous people. If you visit your local old cemetery, you'll notice the great skills of forgotten craftsmen who managed to create lace, inlays and flower garlands of fine workmanship.
The photos taken in the cemetery of Campofontana, are showing wonderful examples of Liberty, a floral style, which was developed between 1800 and 1900.
Two important aspects stand out in these tombstones made with local natural stones: firstly, the ability to design vividly flowers and leaves and to make decorations and curtains look almost like precious fabric lace.
Another important factor is the influence of typical art movements of large capitals on the craftsmen in remote places.
In this context, such an elaborate and detailed style presented an inspiring challenge to the technical and manual skills of local craftsmen.
Natural stone and its application
Before we talk about the modern role of natural stone, we must clarify that it is a building material that cannot be polished. Even if this is generally true, the definition is not so simple.
The stone is versatile and easily adapted to different styles, from rustic to super modern.
Besides natural stone, there are other similarly composed materials such as marble, granite and travertine that are used for historical buildings or artworks.
Marble is a metamorphic rock, which has undergone chemical and physical transformations, therefore its original structure is no longer recognisable, but has been transformed into a material with a granular and crystalline structure, that allows us to process it and to polish it more easily than natural stone.
As already mentioned, in the tradition of natural stone processing, many historical materials are called marble, but they are actually stones or breccias, such as Rosso Verona, Trani, Botticino and many others; they can be polished and processed like classic marble, but do not have the same transparent properties.
Granite has a similar structure as marble and consists mainly of silicon oxide, therefore it is suitable for outdoor use thanks to its weather resistance.
The colour shades of travertine range from white to beige and reddish brown, this rock is very resistant and compact, a versatile material and widely used in construction.
The name derives from the Latin term "lapis tiburtinus", the "stone of Tibur", and was named after Tivoli near Rome, where one of the most important and oldest sites of this stone is located. Since the Middle Ages, it has been known as travertine.
A good knowledge of the properties of natural stones is essential to select the right stone for each project.
A very important factor is the workability of the material as well as the possibility of producing artifacts and surfaces using different techniques and tools.
Natural stone and its modern role
Natural stone is probably the oldest building material in the world.
Over the centuries and until the beginning of the 20th century, natural stone has always been preferred to all other building materials.
Even today, it is widely used as interior decoration in private homes and public buildings. Especially because it is a natural material, it harmonizes with green areas.
Natural stone cladding is very popular for the realization of interior and exterior surfaces, thanks to its special technical and artistic characteristics that make it one of the most sought-after materials.
Since using natural stone, the world of construction, architecture, and sculpture has been exponentially improved.
From flooring to wall covering, from tabletops to finishings in kitchen and bathroom, when you design the interior of your house with natural stones, it will "bring home" the spirit of time, history, and natural changes.
What charm does the stone still have today?
Why is it still in such demand and used so often?
In addition to the infinite possibilities that technology offers us today, there is also the atavistic human instinct to go back to the roots, as one wants to feel part of the whole, to own a piece of earth history, which gives one's own living and one's own future in the world a feeling of firmness.
It is the same deep instinct that led prehistoric men to engrave images of things and animals on cave walls or limestone slabs to build a bridge between past, present and future.