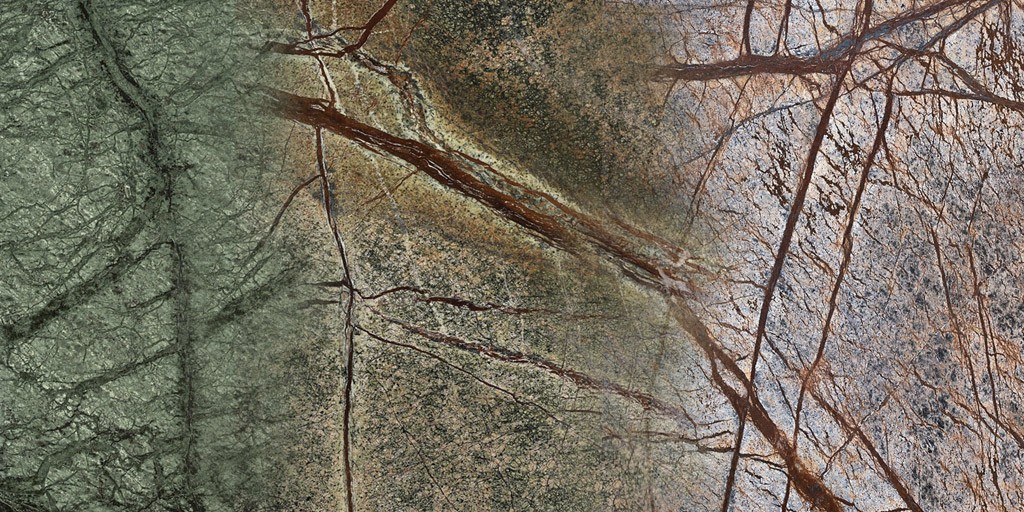 Mixed colour of Verde Guatemala, Rain Forest Green and Rain Forest Brown
To meet all the requirements of our customers, we've re-established marble in our product line. When we set up our business fifty years ago, our firm worked and dealt first with local marble, than with Italian marble. Recently, we decided to go back to our roots, expanding our product line a lot and now we are selling marble from all over the world.
We've been impressed by the beautiful and spectacular material from India, called Rain Forrest, and especially by these two colours: Rain Forest Green and Rain Forest Brown. The fact that this natural stone is generally classified as marble, but called granite by some people, had caught our interest.
In fact, Rain Forest belongs to the almost unknown serpentinite, a rock composed of one or more serpentine group minerals. This metamorphic stone (as marble) has been formed by serpentinization, that means that the rock has been converted at the bottom of the sea by chemical and mechanical reactions at low temperature, then, gradually it has come to the surface. The name serpentinite derives from the word snake and its lattice shaped and almost green design evokes the skin of a snake. Verde Guatemala belongs to this rock type, too.
Although Rain Forest is a serpentinite and part of the marble category, it differs from regular marble: it's hard to cut this stone and difficult to scratch its surface. Rain Forest doesn't change colour as easy as marble, but if it happens, you won't see the stains or, at least, you won't notice them because of its structure. This stone fits perfectly for a kitchen top or a vanity top and not just for its beauty. Choosing Rainforest Brown and Rainforest Green, we are able to produce extraordinary and exotic kitchen tops, especially if the stone structure, that evokes a map of muddled equatorial forests, is kept up and emphasized!
>> Rain Forest Brown
>> Rain Forest Green